Ach! I forgot to write a post on Friday. Therefore, I only got four days into my self-imposed challenge to blog daily on my teaching experiences before skipping. Rather than hang my head in shame, I'll "pick up the ball and take the six," moving on to the next hole. Wait, that reference might require an explanation. Before summer ended, Sherry and I took the kids to play miniature golf. Since then, Sherry has said to me quite a few times regarding my dieting efforts that I should "take the six" when I try to reconcile a weekend of bad eating with my weekly goals of budgeting my eating.
So is it coincidence that the day after I missed blogging I had an awkward moment as a teacher, on a Saturday? Probably.
Saturday marked the first home football game my school's team played on their own campus. When my school was built half a decade ago there wasn't room in the budget for a stadium. Our team has since shared a stadium with one of our sister schools, a stadium that is on that school's campus. Oh, that school is our greatest rival. Therefore it never really felt like a home stadium but instead an apartment we were forced to rent.
That changed Saturday when our boys got to play in a field merely 200 yards from their own school's gym. I wasn't missing that game for anything, or at least missing the first half (it was a mismatch typical to southeastern Pennsylvania football . . . our team was leading by three touchdowns at the half, so I therefore left after the band's performance). And there was a lot of spectacle worth seeing: the marching band and cheerleaders test-driving new traditions, the student section staking its claim, the crowd figuring out the flow of where to get tickets, when to leave for snacks, and fans realizing that day games require sun block (there are no lights at the stadium).
Then there was the awkward moment that inspired this blog post. Rather than give an account of what took place, an account that might not fairly capture what I saw, I want to laud my students for trying to create a tradition at our stadium that links an early symbol of our nation with the school mascot (the Patriot). Can students use a historical flag of our nation as a symbol at a game? Probably. But there is protocol they'll have to observe so as to not offend or violate the flag code. So, I think have an opportunity to help the student leaders figure out the right symbol to use.
Is this an official U.S. flag? I'm not sure.




This, too, might be official. Unsure.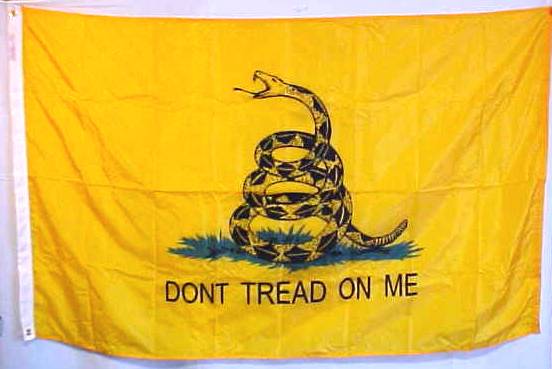 Way too much politicized meaning in 2015.


Too cryptic.


Too cryptic and not from our region of the country.

So there are lots of choices, but they each have their liabilities.
I hope they re-name the student section "Sons of Liberty" like they did a few years ago. Also, I think it would be awesome for them to figure out a way to don a student in colonial era garb who could carry one of these historical flags at the game in respectful but enthusiastic manner. They've got a chance to do something meaningful here.
I'm proud of my school's students, though, that they're seeking ways to reach into the past to find a national symbol that they can link to their school mascot. The teachable opportunity here comes in challenging them to figure out a system by which they make no mistake they're still honoring the country.