It being 9/11, I wish I had had the presence of mind to share with my students
this wonderful story
about our neighbors to the north and their hospitality on that dreadful day.
Part of the joy in teaching Macroeconomics comes in unsettling the students' wisdom about money. Early in the course, I need to spend some time getting us to comprehend how large 18 trillion dollars is. Later, I need to work with the students on understanding that most of they money supply doesn't exist in physical form, but it is no less real. Oh, and we need to get to that whole not-backed-by-gold thing. At the end of the year we need to examine how the value of one currency can rise or fall relative to others. It's fun. A bit sadistic though in that I derive pleasure from seeing what they thought to be true not be so true or simple.
So, today in class I had the chance to share one of the more interesting news stories I've seen in some time, about how a region in
Quebec is accepting cut-in-half bills as money
. Seriously. The people and merchants there are treating one half of a $20 bill as $10 and one half of a $10 as a $5. They call it Demis. Talk about a fun way to upset kids' understanding of money.
But a student topped that. He put me wise to another crazy tale, a tale of how Canadians have noticed that Sir Wilfred Laurier, the P.M. depicted on the $5 note, bears an uncanny resemblance to the late Leonard Nimoy. And with a small bit of assistance from a marker, it can look as if Science Officer Spock himself is the portrait on that note. Here's a
story
.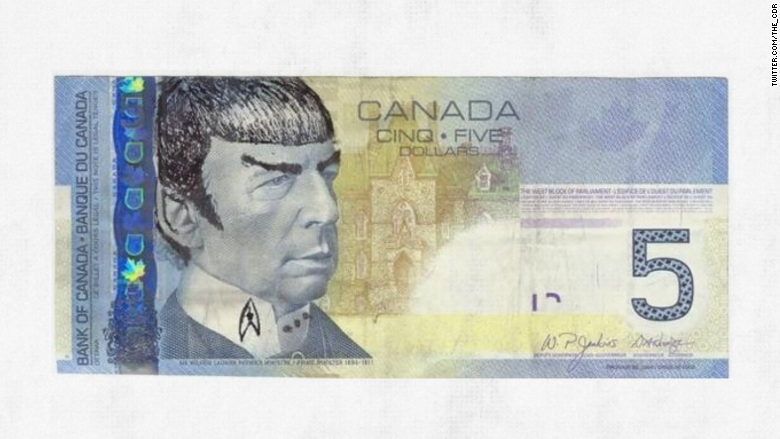 Oh, the irony. Nimoy wasn't Canadian, but William Shatner was. Is there any chance Shatner looks like The Honorable John MacDonald, whose likeness graces the $10?